BOX SPECIFICATION
The bike box we offer is the hard case Bike Pod Pro. It's a hard case that is more compact than traditional hard cases, it doesn't weigh as much as other bike boxes, and it offers total bike protection.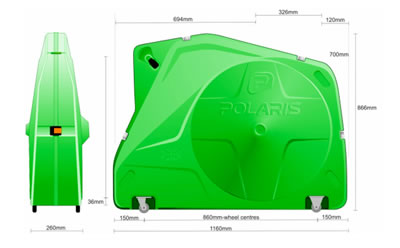 WHAT TYPES OF BIKES FIT
INSIDE THE BIKE POD PRO?
Road Bikes
XL carbon road frames with an integrated setpost fit inside the Bike Pod Pro. Traditional steel road bikes up to 61cm also fit easily inside the Bike Pod Pro.
MTB Bikes
Mountain bikes can be slighly longer than road bikes due to increased frame clearances and a longer wheelbase. However we've tested the Pod Pro with a large 140mm travel full suspension MTB (Specialized Pitch) and it fitted in. If your frame has long travel forks you may need to remove them.
If you need to remove your forks please follow the instructions below:
Remove your front wheel,
Remove your disc brake caliper (or unhook the brake cable if you have a cable based system),
Remove the stem top cap, loosen the stem steerer bolts and slide the fork out.
In some situations you may not have to remove your brake caliper.
Our Boxes Specifications
Manufactured in the UK
Clam shell moulded design
Bike wheels lock in position for security
Internal foam padding for bike protection
4 lockable draw latches & luggage tag
Castor wheels for ease of movement
Suitable for both road and mountain bikes
Conforms to all major airline baggage handling restrictions
DIMENSIONS:
Length: 1160mm
Height: (tallest) 866mm
Depth: 260mm
Weight: 10.5kg (+/- 5%)
RENTAL FROM ONLY £40
PER WEEK
BOOK NOW